Office space demand continues to grow in Greensboro, North Carolina. Muirwood Office Center is a host to executive office space in Greensboro, NC  in a modern style building that sits on three-acres of beautiful landscaping and gives an instant impression of credibility and a professional business image.
With a variety of options and a custom plan that is designed specifically for your business needs, many business owners are turning to a great alternative to traditional office space. The popularity of executive office space in Greensboro has grown exponentially over the past ten to fifteen years. What started as an unfamiliar territory, executive office space has reinvented its purpose many times over to position itself at the forefront of today's business's ever-changing and growing demands.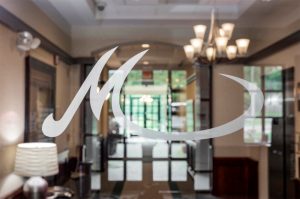 Flexible terms, workspace and customized plans are what businesses want and need today. Muirwood Office Center at Greensboro continues to be a top pick for today's businesses looking for these features. With furnished offices, 24/7 access, high speed internet, on-site maintenance and a dedicated staff, conference and training spaces, modern kitchen area, office equipment such as copiers, scanners and faxes, which are all part of the overall Muirwood experience, it is no wonder that businesses are migrating to Muirwood Office Center.
Overall the benefits of Muirwood are the perfect fit for many small and medium sized businesses seeking flexible office space with a vast value. Muirwood Office Center is conveniently located in the heart of Greensboro, North Carolina. For more information, contact David Associates' on-site leasing agent, Lisa Strickland (336) 443-6050.
About David Associates
David Associates has accumulated over 2 million square feet throughout the east coast, with special focus in Palm Beach County, Florida, North Carolina and Connecticut. With 30 years of commercial leasing experience, they have become a beacon of resilience and strength in the commercial real estate industry, specializing in retail, plazas, office space and high-rise properties. To learn more, visit www.davidassociates.com.