5700 Professional Park office rentals are quite popular and much desired by the medical community. A 2,400+ square foot first floor medical office suite has opened for lease for a medical practice looking for a built-out space that is move-in ready.
With a location that has access directly to Lake Worth Road, this space is centrally located half-way between Haverhill and Jog Road on the south side of Lake Worth Road. Amid many nearby roadways and highways that have easy access to many parts of Palm Beach County, including JFK Hospital to the east and Wellington Regional Medical Center to the west, these two facilities are nearby and highly frequented for general hospital care.
This three-story building hosts amenities such as an on-site maintenance and management team, security cameras on every floor, ample surface parking and visible signage. Notary services, conference room usage, FedEx and UPS kiosks and private USPS mailboxes are additional perks for this property.
In addition, this location offers nearby shoppes and restaurants and easy access to a Palm Tram bus route and Lake Worth Commuter Rail Station.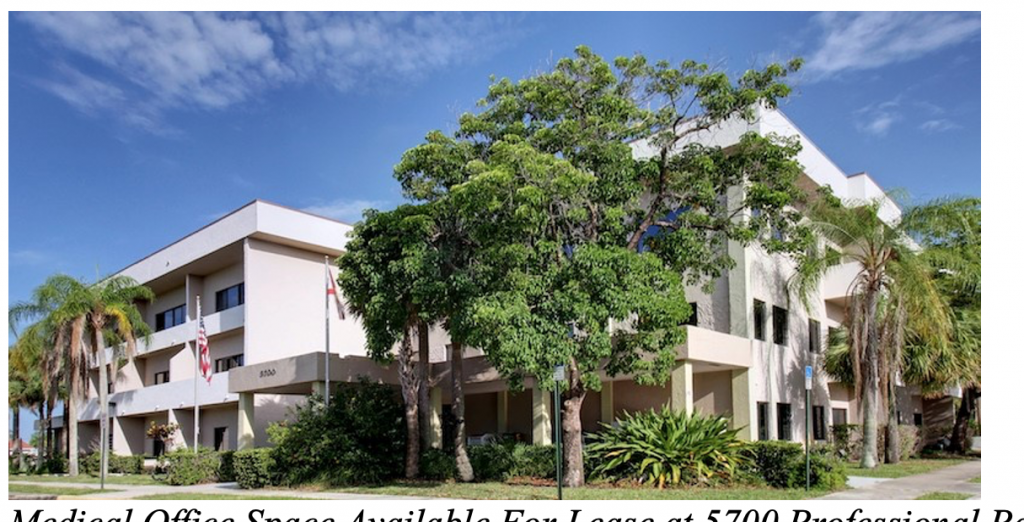 5700 Professional Park offers over 40,000 square feet of office space, most of which is medically certified, including suite 104, which is currently available for lease. This suite, inside of a primarily medical-oriented office building, offers a floor plan with 5-6 private offices, a welcoming reception area, separate men's and ladies restrooms, two entrances and a wide open area for administration workstations, accommodating anywhere from 7-21 employees. It is equipped with wi-fi connectivity, central air and is fully carpeted.
Additional suite options include suite 308-A, a smaller space of 286 square feet that will accommodate up to three people with a rent payment inclusive of utilities, building services and property expenses.
Whatever your need for medical office space in Greenacres, Florida, 5700 Professional Park offers options to suit your leasing necessities, such as flexible terms and an impressive business image. Overall the benefits of this property are a must-see for any medical practice considering renting office space in Greenacres, Florida. For more information, contact David Associates' leasing agent, Molly Stafford (561) 503-1764 or email: mstafford@davidassociates.com.
About David Associates
David Associates has accumulated over 2 million square feet throughout the east coast, with special focus in Palm Beach County, Florida, North Carolina and Connecticut. With 30 years of commercial leasing experience, they have become a beacon of resilience and strength in the commercial real estate industry, specializing in retail, plazas, office space and high-rise properties. To learn more, visit www.davidassociates.com.